We do love our customers to leave a review on the purchased listing if possible, but here are some emails we have had on Craftworksdirect. Thank
you all for your cont
Pauline Brown
I have received my "carer" gifts, they are excellent, even better than they look on your site. Thanks again for all your help . Have a good weekend
Derek Wong
The best Open Closed Sign
The Plastic House Blues
Really nice stuff they look just like the pictures, i've ordered from other companies and there is something off or not up to standard. This company is the Boss of handmade stuff...don't change keep doing what you do it works...Is Sharon that nice all the time? #Jokes # Craftworksdirect the best
Melissa James
The nicest things come in small packages
William Gibbs
I'm so happy with the remembrance gift, I like that I was able to talk to Sharon she could see what I was saying my little boy is lost but never forgotten thank you Sharon
info @craftworksdirect.co.uk
Thank you William it was an honour
Becca@Dancestars
Really really lovely items I love that you can personalise anything Thanks Shazzer are you Essex
info @craftworksdirect.co.uk
Hi Becca would be proud to be essex but I'm Oxford
Paula 'n' Willy
i don't think I've ever had an item so nice the packing was good, who new that this company's like this exist
Lesley Kenton-Jacques
Free postage how do you do it so quickly and the quality is very good, its one of the best companies ever. I shall be back!
Tim
Nice item but over packed it's made from wood! bubble wrap, packing peanuts, cellophane bag and in a cardboard box
info @craftworksdirect.co.uk
Hi Tim we try our best to get your order to you whole and complete it has been said before but we are using biodegradable packing now
Diane & Michael Munn
The plaque arrived today. We must say a very big thank you, the speedy delivery and your hard work in the design, which will be displayed on our door.
Collette Sampson
Thank you Sharon you are a Godsend christening plaques on time - next day in fact I've seen your stuff so many times but never ordered I wish I bought from you before
Jack Baker
Seriously nice personalized sign well done!
Amina Khan
Very nice wedding favours it was all very last minute but Sharon pulled out all the stops and did a great job. Free postage and very good communication
Alan Woodridge
Bigger than I thought
Seriously good stuff I'll buy again
DestinCild66rtd
Lilli Gerbra-Lane
Very Nice Items the quality is really good I love this website
Poppa Dean -Swanage Celtic Club
Lovely present for the wife. Thank you
Debenair Gifts
Excellent service
Paula Jeffries
You are my Sunshine shadow box is amazing worth every penny thank you so much
Amrad
Hey New updated website Sharon very good
Tylerjames
Like the product very well packed thank you
Nettle & Lavender
Very well made, the back is painted nice wire hook, nicely polished worth every penny but a little smaller than I expected but I didn't look at the sizes i thought it was inches not cm silly me. I would definitely buy from this site again Very nice gift items.
Diane Lavender
Manarge
I said I wanted Bling, I got Bling, very good job Sheron!
Jenny Castlemain
Thanks Craftworks direct you for the lovely remembrance sign my family loved it. we had lots of likes on facebook a very good price for the quality,
lots of love,
Jenny and Family
HarryWeeBob&Lisa
Ordered on Friday last, heavy snow and arrived Today...Get in You Beauty!!!
Debra Price
Amazing thank you I will buy again,
Skinnedknees56nBozza
Nice,

Crazylove.co.uk. I 'm not easily impressed but I like the quality and the company
Well this is a small company that is up there with the professionals, I'm so impressed with this company. We got married last month, all of the wedding items were amazing I took a chance and ordered directly from craftworks, I bought a really small plaque on amazon to start with and then bought the Nana plaque to see if the quality was still the same from Craftworksdirect,and it was. So I went for the megga order,. All my family and my husbands table settings and favours, I did not expect that, everything would arrive in clear bags with labels so I could see what they were, all the names perfectly spelt. and the to my surprise a lovely wedding gift plaque at the bottom of the box for me and hubby to remind us of our special day, Sharon made it as a gift for us. I am overwhelmed by that kindness so I am writing this feedback to say thank you and to promote her fantastic business.
Mia and Trent Somersfield October 2017
OliviaBennet
I am amazed that the signs is so good. so nice,too much packing peanuts, it's only a wooden thing why so much packing ?
info @craftworksdirect.co.uk
Hi Olivia we try our best to get your order to you whole and complete
Slimslimslimmer.UK
We decided to a bulk order of slimming countdown plaques for all my girls they were all delighted it was a real boost to our spirits after the summer hols . I just want to mention that talking to a real person gives you confidence to order i'm not very good on the computer but I called the Lady, I think her name is Sharon, and she made it so simple to order I really want to recommend this company. I wasn't expecting my order to turn up the next day either.
I Love craftworks I want to recommend them to everyone
Kraftykards2017
A really nice company really good stuff nice ideas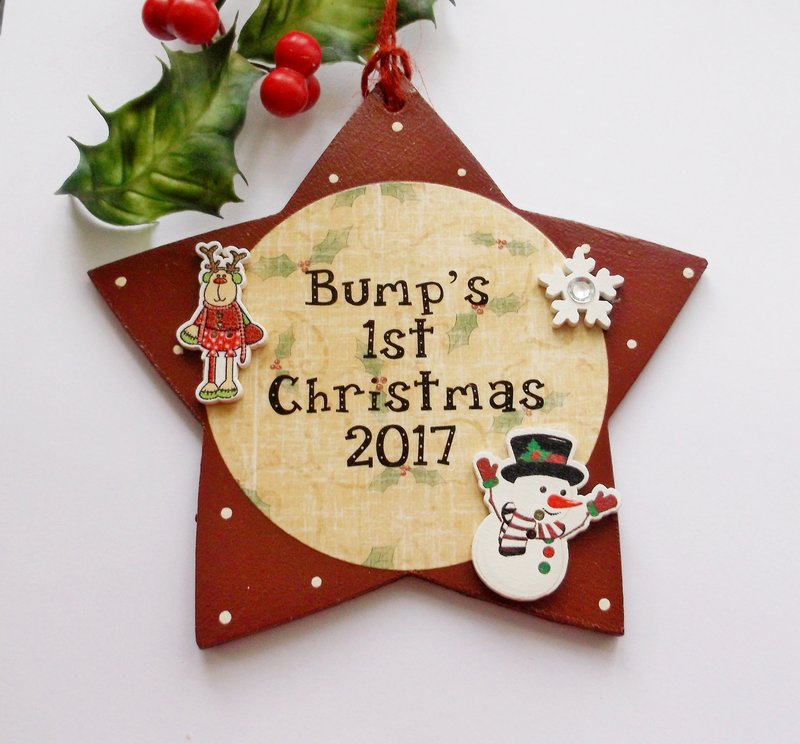 Justine and Marcus Nexim
Excellent customer service arrived before due date. Delighted with this product will recommend seller to friends and family.
Checkmate99

Product was very good value for money bigger than thought
Mummy & Daddy
Next day delivery I wasn't expecting that! I love my Bump's first Christmas star, just as the picture shows.I'm loving this site thank you (")/
Jamila Hedige
I will order again, I like these things. 5 star
Danah Skittle
Really nice gifts they are the best plaques I've ever bought and I've bought a lot of plaques. The quality is second to none and the finishing touches are well thought of. This is my third order this month and I know I'm going to get the same excellent quality. Teacher gifts next Craftworks, A really big thank you!
Nicola Smith
would just like to say how delighted I am with my 2 "poo room" signs -they are lovely, and very well made.Thank you to Sharon who sorted out the postage to Australia for me - much appreciated!
Bennita Potabello
quick delivery xx
Robert Price
Good item I've never seen wood look like this. it has a nice coating on it. I'm very happy.
Brenda Richards
I love Sharon, she is so funny, we laughed all the way through ordering. She is so down to earth, I bought loads and everything was stunning, Many thanks Brenda

Janice2000
OMG!! i wasn't expecing such a nice gift really nicce thanks
Lesliedamook
love it thanks. i will buy again xlxdamook
Janet Phillips

I bought this as a Christmas gift for my friend from her Dalmatian dog. My friend is really pleased with it and the dog looks pleased! This plaque is beautifully made and more importantly made in this country
Seriousscouse
My birthday star was on a bottle of Remi, Boss Prezzie!
Emika Solemi
Thank you this sign was very nice, everyone takes off their shoes now, even my husband :-)
Criag_Bennetmileamintute.@gmail.com
2017 is going to be a special year for us i asked Sharon to make me a valentines plaque for me and my fiance, I got it and it was perfect I almost cried. it was just what I wanted. we had such a tough year in 2016 we are on the up thank you so much
DavidSpice22
Really Good thank you
Lisa Linnet
Joanne you are a Saviour! Thank you so much! I'm so last minute.com
Lisa Aug 2016
Bought this for my health visitor who was leaving. She absolutely loved it. Really nice detail & good quality
Amazon customer
Bought this for my Daughters teacher as she has been a great help it was well made & perfect
MaylaGreen
I orderd 3 Christening plaques from Craftworks, I have never used a company like this, A company that really wants to help you, I mean really help!
I used another company to start off with that got it so wrong, really wrong.The stuff did not turn up! Then I called Craftworks on Thursday the 29th October the lady listened and reassured me that they could get the gifts out to me in time, I told them that I needed some Christening gifts straight away,I was at my wits end with all of the preparation for the Christeningon Sunday.
On the Saturday morning the 31st October, the day before the Christening everything turned up from Craftworks, the three Godmother plaques all gift wrapped and with thank you cards, I didn't even ask for gift wrap or thank you cards.
We had a really lovely day in the end, all went well my Daughter Rosie's Godmothers all adored their thank you gifts. I cannot thank those people at Craftworks enough. This is a special company. I would recommend them to anybody. XXMayla
Mickeyandthesundancekidsroute66
Very nice ***** :-)
656danteG
Thank you for the mother in law gift and the bridesmaids, Leanne was over the moon with them, she says it was the only thing I got right!
Thanks Joanne,
Regards Dante :-)
MimiSlimmeroftheyear
I really like this stuff,its really good, a good price and nice sayings
Tender Ted
All I did was tell Sharon what I wanted and she made it even better than what I had in mind, My wife was bowled over and we've bought a few more since then and they are all fantastic. She makes a really nice sign, I'm not going to buy from anywhere else.
Gemmah
The Postman kept taking my plaque back to the post office, but when I got it it was worth the wait
Tina@PrincessPartyPlanner
I am always looking for different ideas as a party planner, lovely stuff, great table setting plaques and individual plaques to put in party bags I can always rely on a quality item I really want to recommend excellent work

James Nightingale Thank you for the memorial plaque dad was so taken with it, and thanks for all the time that you spent on the phone with me to make it nice. Mum would be proud. Regards James.
Sangita I don't do reviews, but I thought that this company deserves a good review I bought a plaque for my mum for Mothers day from Craftworks on Amazon it was really nice good price well made. So I thought I might buy some wedding gifts for my family as my sister was getting married. I was on the phone for over half an hour telling them what I wanted I never felt that i was taking up their time or anything, in fact I actually left the conversation feeling really confident that she knew exactly what I was asking for and confirmed it with an email to me. Within 5 days they made made over 26 plaques with difficult names and cultural spellings. All of them in the right colors, with the perfect decorations and a little note inside to say thank you for the order with my name on it. i was quite taken back. I actually got one name spelling wrong I checked the email and it was my mistake I called Joanne and Sharon it was no problem they made another one that day and I got it by first class recorded delivery the next day the wedding was on Friday. Needless to say the gift Plaques went down a storm and I know that this company has made gifts for some of my extended family and friends and I have only heard brilliant things about what they done. So this is my only review in 2016 and I don't think that I will find another company with this kind of service and quality thank you Craftworks Team, Go team Craftworks! Love Sangita

Lesley-Mae
How funny is Joanne? Great to talk to and really helpful. By the way I love my new baby gift set. Mr Ted is sooo cute.

Sevanesha Gupta
Thank you very much, I didn't think you could make it so quickly and it matches everything!
Butty
Recommended to everyone we know and posted on facebook
Maggie Borkowski
Thank you sharon lovely i will buy again
Mike, don't call me I'll call you!
Very surprised a really nice item! i didn't expect much for the price, but it's bloody lovely!!
Nigel. A
I have only ordered on Amazon before, this seller is amazing Joanne you are he best!!!
Melanie
I ordered a really little Flower Girl plaque. I'm not going to lie, I wasn't expecting much for the price, but when it came I was shocked, it was really nice. My Little Flower Girl has her heart on the wall and it matches her room perfectly. Thanks
PYT
I didn't think it was going to be so nice my mum loved it The best gift so far, i'll be back
Davo
The missus Loved it.

Limanilayla
really quick delivery i put the order in on the monday afternoon and by wednesday it was here and my item was personalised brilliant, really nice gift too. this is my third order and i am impressed
Drake 'n' Ela
We work long hours and we missed the 3rd attempted Royal Mail Delivery and my christening was in two days i was not happy:-(
But Sharon I think is the owner of the company just sent me another one and they both came on the same day . What great service these guys are professionals .
Grimmmace
fank you.
Nina P.
Really Nice
Sue Price
No Doubt these lot are brilliant they make the best stuff
Nice stuff
just like me nice stuff
Marianne Q
I've never ordered on the internet before, you have given me the confidence Marriane Questall
Josh
quick delivery good

Lana and June
So much work went into our wedding, everything went without a hitch. We both love our wedding keepsake Plaques what a great idea!. sending you all of our love and light Sharon. we will order again
Brian Mills
Very nice.
Mossy Wifey
The save the date hearts went down a treat and everyone loved the thank you bridesmaid plaques. I twas a pleasure to work with you Kind regards The New Mrs Evelyn Moss, "Ta da! "
Red
love it but I want ideas for the men in my life do you make them?
Dana Barr
thanxs
sntinal11
I am always careful when I order from independent sites. I had no problem. it was so easy to order. There was good security. No fuss and the sign came the next day really quick thank you
Blue Peter 72

Thank you my new lady friend was very happy
Chelsea Girl

This stuff is crackin thanxs
Lisa M

my mum is going to love this
Nath
I bought the valentines gift my missus loved it .10 brownie points. Now I love it

Tracy MClean

I am thrilled with them. Thank you

Clare Beck
Nice gift, I should have got the gift wrap and sent it directly, I wasn't thinking, Next time I order it will be gift wrapped.
Manny C
Thank you so much for the lovely gift basket everything looked amazing and my wife loved it

Dave & Mel
I don't know how you create such lovely stuff for the price you are charging, keep it up I will be buying more
Jennie Just a quick thank you (again!). As you know, this is my second wedding you made both my wedding plaques and James' memorial plaque
I am delighted with the bridesmaid and flower girl plaques to go with the wedding theme colours!

Proc
Really nice gift,Thank you
Tina-Faye
Thank you so much for the lovely bathroom name sign I was so pleased with it.I
will definitely recommend you to all my family and friends.
Thank you once again
Naima Shah
Thank Sharon thank you very much, its lovely,I will be ordering some more things!
Gem
Very very pleased with the outcome and will recommend you to all my friends and family, thanks again!
Maggie
My mum loved it I want to say thank you very much for the plaques I am thrilled with them. Thank you
John Edwards
Many thanks for the wonderful name plaque I ordered for my work colleague who was celebrating the birth of her first baby. She was absolutely delighted with the gift and thought it was very special. A quick delivery too!
Schwetta
I Just love it I received my order today and I just want to thank you very,very much.
Kim
I don't like it......I love it!! Had you going there! great product